Need help to find where in England this is, I think some place in Northumberland,
before WW II?? Here you find more of the family I am looking for. Read more..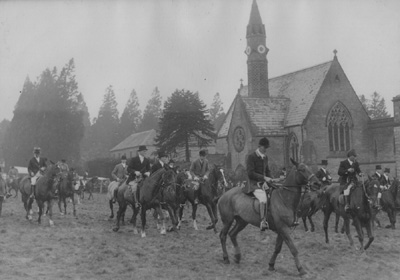 It is a foxhunt I think, Joseph Leo Murray in bowler, 2 horse to left.
New info, backside of the picture say: copyright Newcastle Chronicle.
---
Can anyone tell me make or model and year of this car, hope to find who owned it too, by the no plates.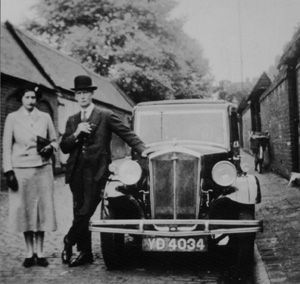 Hope to get help on this.
---
Thank you for thelp, here are the best guesses so fare:
Des 2000
Can't help with the church location; the car is also a puzzle although it is quite similar to our first car, a 1934 Wolseley, but they all looked very similar in those days. Happy Hunting, David Rogerson, Newmarket, Ontario, Canada.
Jan 2001 Thanks to Colin Doncaster, that sent a pic. and spec. of Wolseley Sixteen 1933-35( prod:2231) Still think it is a Wolseley.
The car was originally registered in Taunton in the county of Somerset
Vidar